Pole Fitness has allowed Marcy to combine her love of strength and athleticism with dance.
She never took any formal dance classes as a kid, and started swimming competitively at the age of 5, but she always loved to dance.
She earned an BS and MS in Kinesiology from IU in 2012 and 2014, respectively, and she uses those degrees everyday in planning workouts and routines for the students of Chrome.
She also holds a Pole Instructor Certification from Discoveries Dance since 2012, and has been Zumba certified since 2010.
In the 4 years of pole, she has gained more strength and accomplished more physically than she could have imaged – and she has done it all while dancing to music she loves.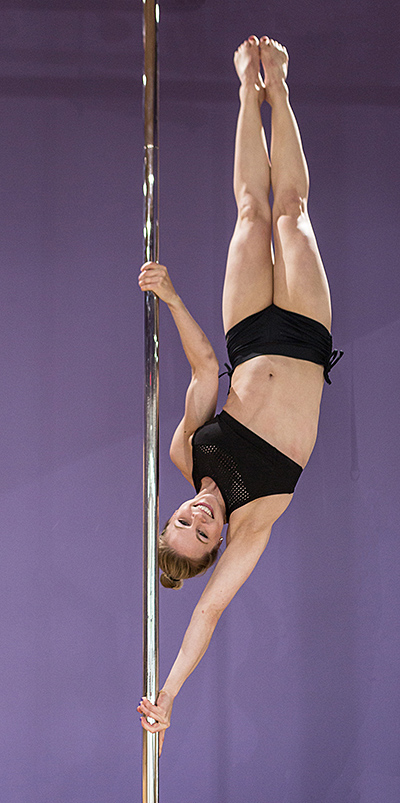 Jamie started taking dance lessons at the age of four and ever since then she's been dancing and choreographing.
Growing up, her biggest dance influences were Michael and Janet Jackson. She joined Cole Academy of Dance in Muncie, IN as young child.
Throughout her dance company years, she studied various forms of dance including tap, jazz, ballet, and hip hop and she competed and placed in multiple National Dance Competitions.
As a college student at Indiana University, Jamie studied modern, jazz and African dance styles. She has always felt a draw to hip-hop dancing and has found her passion in teaching it.
Jamie founded Back It Up!™ LLC in 2012 and has been teaching it ever since.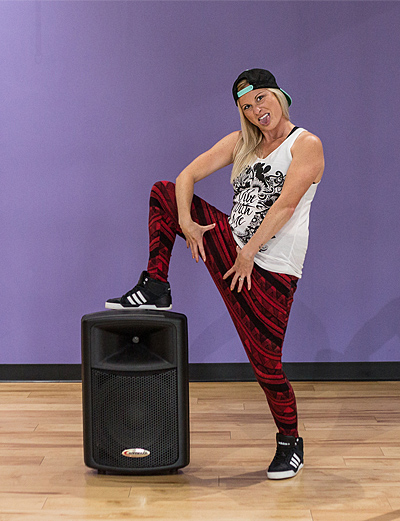 Lauren began her passion for cheer and dance in middle school. It continued through high school and college as she cheered for 4 years at Butler University.
Chrome Fitness has been a home to Lauren since the day it opened. She has 2 years of experience with pole dancing, one of those including pole dance instruction.
She has also been teaching chair dancing classes for one year and is a certified Back It Up! (TM) instructor.
She is currently an Indiana Pacemate and an Algebra teacher at an urban charter school. In her little free time, she enjoys shopping, napping, and building puzzles.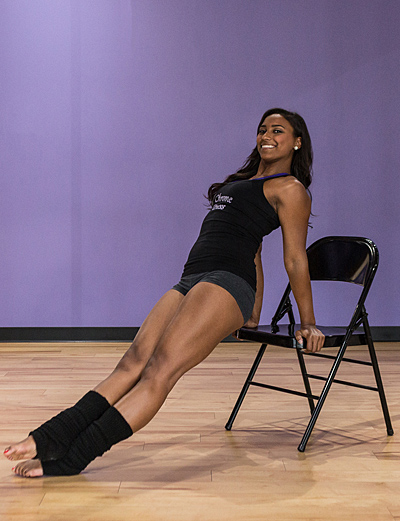 I absolutely LOVE to dance! I've been dancing for 14 years. I danced on both my high school team at Noblesville and college team at IUPUI.  I've also danced competitively for 3 different all-star studios over the past 14 years including Cheer World, Dazzle Dance, and Volume Dance.
For the past 3 years I've taught jazz, ballet, and hip hop classes at Volume Dance for ages four though adult. I also had a blast being a BACK IT UP!™ instructor for a year.
Currently, I am enduring the fabulous pain of pole dancing but I am loving every minute and not quitting anytime soon.
Thanks for welcoming me to the Chrome family, I love being a Chromie! Oh and I also love pizza, chocolate, my doggies, my husband, family and friends.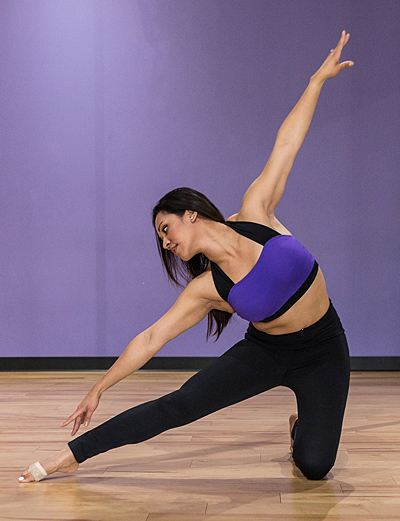 Jen (stage name Nicole South) first started pole dancing in February 2013 and her first intro instructor (Marcy!) inspired her to continue dancing. Although the studio closed 6 months later, Jen's love for pole stayed strong and she continued taking group private lessons.
When Marcy opened Chrome Fitness, Jen was excited to meet and train with other like-minded pole dancers.
Jen did a small amount of gymnastics when she was very young and dove in high school. She has always been athletic and in sports – before pole dancing she competed in triathlons.
Her day job is a Cybrarian (Cyber Librarian) for a pharmaceutical packaging company and she loves being outside, home DIY projects and ice cream.
Pole accomplishments:
2016 The North American Pole Dance Championships – Midwest Elite Division – Finalist
2015 Miss Indiana Pole Artist – 2nd Place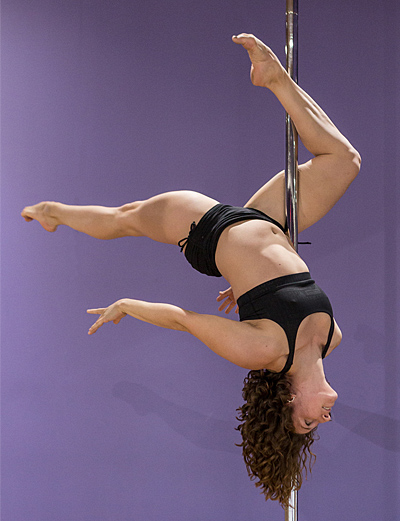 Angelique, or Ang, is passionate about dance and movement. She has been taking dance classes and performing since the age of 3. Through the age of 18 she focused on ballet and jazz, but also explored tap, tumbling, cheerleading, musical theater, and hip hop.
She earned a BS from Ball State in 2005 with a major in Dance and Performance. While in college she explored even more styles of dance including modern/contemporary, improvisation, ballroom, ethnic dances, and swing. Her undergraduate studies also included anatomy, physiology, and kinesiology providing her a deeper understanding of movement and the human body.
After college, she taught dance classes part-time to children and adults, and continued to take adult ballet classes. She had to take a few years off from teaching and dancing to have two wonderful children and move to the Carmel area. Once her family was settled in, she went searching for a new dance studio. She took an Intro to Chrome class in 2015, and fell madly in love with pole dancing and Chrome Fitness.
She has been a pole instructor since 2017. She continues to expand her knowledge of pole, dance, movement, and teaching by taking classes and workshop whenever she can. She will be earning her certification in vinyasa yoga and in Floor Flow® by the end of 2018.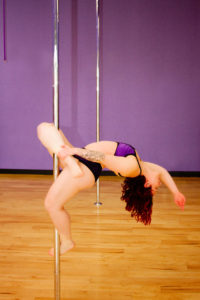 Sarah-Jean started taking pole classes in 2015 at Chrome after attending a bachelorette party and getting completely hooked despite being completely terrible at most of the moves. She has been attending her pole series class every Thursday since then and gained some really great friendships (and muscles!) along the way.
She became certified in Liquid Motion, a floor work based movement class, in October 2017 and started teaching both Liquid Motion and pole shortly after. You can find Sarah-Jean at the studio most days of the week either teaching, practicing or taking a class. When she's not at the studio, you can find her at home with her husband, dog, two cats and four chickens although she's probably still thinking about pole combos or what to teach next.
"Pole dancing taught me to love my body but Liquid Motion has taught me to truly connect with my body. I hope that I can show people how to connect and love themselves through teaching pole dancing & Liquid Motion."
Pole accomplishments:
2018 PSO Central – Exotic Level 3 – 2nd Place
2019 PSO Gateway – Floorwork & Low Flow Level 2/3 – 1st Place