Private Lessons at Chrome
Prefer to work one-on-one or supplement your group lessons with individualized time?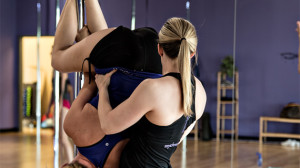 Private lessons are beneficial for all levels. Whether you're a beginner looking for extra instruction or an advanced pole student wanting to work on specific tricks, our lessons are set up to focus on whatever you need. Are you looking to create a routine for performance or competition? We can assist with that too! We are here to help you fine tune your skills, develop your strengths and overcome your weaknesses.
*1-on-1s can also be offered for any other fitness format you desire.
Please complete this form to request a private lesson.