Zumba®
Get ready to sweat and move your hips to this Latin-inspired cardio dance class. Zumba is a total workout, combining all elements of fitness – cardio, muscle conditioning, balance and flexibility, boosted energy and a serious dose of awesome each time you leave class.
Back It Up!™
Back It Up!® is a beginner/intermediate level choreography class that focuses primarily on Hip-Hop with aspects of Jazz and Contemporary. New routines are taught weekly with step-by-step instruction so you can join in the fun whenever you want! This class is great for all fitness levels because it is easily adaptable to make it low, medium, or high impact – whatever you prefer! Classes are taught in 8-count format. Tennis/fitness shoes recommended.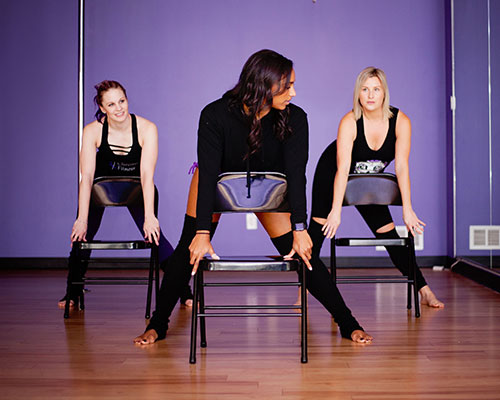 Chair Dance
Learn how a chair was really meant to be used in our monthly chair dance workshops! You will learn a new routine each month that changes pace, skills, and choreography while giving you a great workout. Our instructor will guide you through a set of moves for a fun, sexy routine. No previous dance experience required!
Twerk Workshop
Come learn multiple ways to shake and pop your booty at our Twerk Workshops. Each month we focus on a couple different Twerk moves and then use those moves in a choreographed Twerk dance routine that can be either slow and sexy or fast and fun! Not only will you leave our Twerk workshops with some new booty poppin' skills but you'll also leave having completed a fun cardio workout.