I absolutely LOVE to dance! I've been dancing for 14 years. I danced on both my high school team at Noblesville and college team at IUPUI.  I've also danced competitively for 3 different all-star studios over the past 14 years including Cheer World, Dazzle Dance, and Volume Dance.
For the past 3 years I've taught jazz, ballet, and hip hop classes at Volume Dance for ages four though adult. I also had a blast being a BACK IT UP!™ instructor for a year.
Currently, I am enduring the fabulous pain of pole dancing but I am loving every minute and not quitting anytime soon.
Thanks for welcoming me to the Chrome family, I love being a Chromie! Oh and I also love pizza, chocolate, my doggies, my fiancé, family and friends.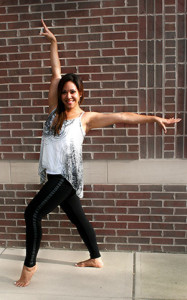 Please follow and like us: