Workshops & Events at Chrome
We offer monthly workshops such as Women's Self Defense, Chair Dance & Twerk. Join us for fresh and fun classes every month!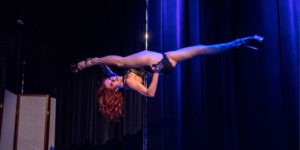 Jordan Mazur is returning for the third time to Chrome Fitness on Saturday, February 24th, 2018!
9:45-11:15a Sextemporary Floorwork, $55: Do you want to move around the pole gracefully but don't want to let that sexy vixen go? Sextemporary Polework will provide smooth, artistically sexy movements and will focus on how to refine your choreography with qualitative approaches. Open to all levels, but participants are recommended to have at least beginning level pole experience. Knee pads recommended for those with sensitive knees.
11:30a-1p Tumbling Transitions, $55: "Why is my @$$ so heavy?!" If you're looking for creative ways to get upside down without a standard inversion, less predictable and more interesting transitions, OR quick, seamless tumbles that will take you from the top to the bottom of the pole, this is the workshop for you! Participants should be comfortable with leg hangs.
Call 317-581-1563 to register for these workshops.
Monthly Workshops
Valentine Vixen Workshop, Fridays 2/2 & 2/9 6-7:15p.
Cost: $40 or included in Unlimited Membership
Description: Want to give your significant other a hot gift for Valentine's Day? Come learn a super sexy dance routine for your man! Intermediate level choreo will help you tap into your inner vixen with sexy floorwork and chair work. Heels are optional to help you feel extra sexy but not required. Also, no significant other? No problem, come learn for fun!
Chair Dance, Saturday 2/3 9:45-11:15a
Self Defense, Friday 2/16 6-7:15p
Twerk Workshop, Saturday 2/17 9:45-11:15a and 11:30a-1p